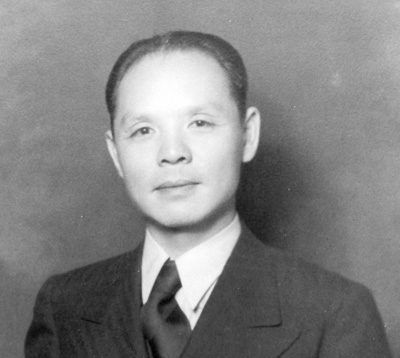 Ho Feng-Shan was a mild-mannered diplomat who saved thousands of Austrian Jews between 1938 and 1940.
Born in Hunan province in 1901, Ho's father died when he was seven. He attended college in Munich, Germany, receiving a doctorate in political economics in 1932.
Ho became a career diplomat serving the Republic of China. Ho's first posting was in Turkey. Next, he was sent to Vienna in 1937. When Nazi Germany annexed Austria in 1938, Ho was appointed Consul-General to Vienna.
The violent Kristallnacht pogrom of November 1938 terrified Vienna's 200,000 Jews and made them desperate to get out. Thousands flocked to Embassy Row, going from one consulate to the next, begging for a visa.
Every country turned them away – until they reached Ho's door. China's official position was to turn away all Jews, but Ho started writing visas to Shanghai to every Jew who asked him for one. He continued issuing the Shanghai visas against direct orders.
In Ho's first three months in office, he issued 1200 visas allowing Jews to leave Austria. Many went to Shanghai and from there to Australia. Others never went to Shanghai at all, but simply needed a visa in order to leave Austria.
A thriving community of Jewish refugees developed in Shanghai, because of Ho's visas.
Ho continued issuing visas until he was called back to China in 1940. It is estimated that Ho issued more than 10,000 visas to Jewish refugees.
After the Chinese Revolution, Ho sided with the Nationalist government and moved to Taiwan. He continued to serve as an ambassador and was posted to Egypt, Mexico, Bolivia, and Colombia.
Ho retired in 1973 and moved to San Francisco. He died in 1997, at age 96.
Ho never spoke of his wartime heroism. His family knew nothing about what their father had done to save Jews until survivors started to speak out. Their stories reached Yad Vashem, and in 2000, Feng-Shan Ho was awarded the title of Righteous Among the Nations.
For sticking his neck out to save thousands of lives, we honor Ho Feng Shan as this week's Thursday Hero.
Get the best of Accidental Talmudist in your inbox: sign up for our monthly newsletter.
You Might Also Like