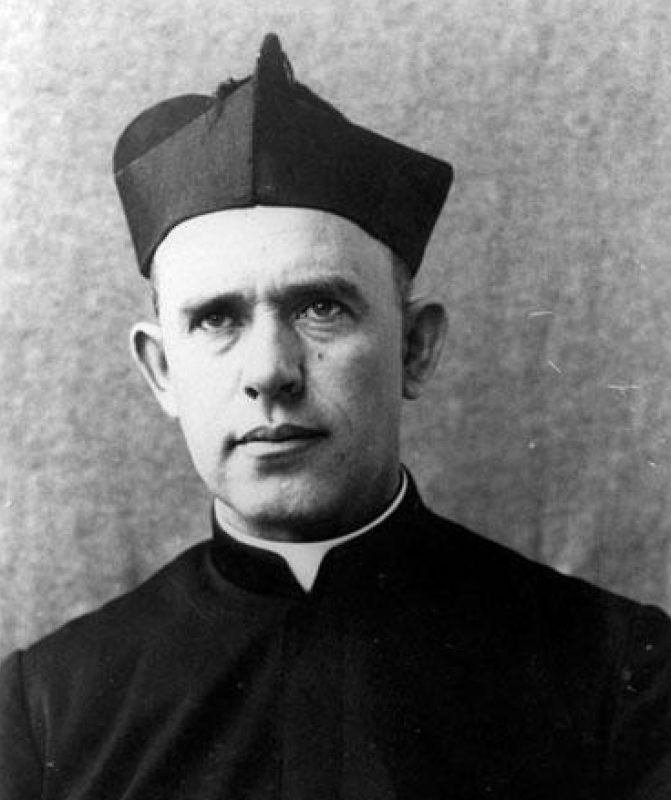 Father Bronius Paukstys was a Lithuanian Catholic priest and professor who saved 120 Jewish children and 25 Jewish adults during the Holocaust.
Born in Kuryne, Lithuania in 1897, Bronius was the ninth of eleven children born to a devout Roman Catholic family. After graduating from high school, he studied to be a teacher and taught elementary school. When Bronius was 28 years old, he discovered the Salesians of Don Bosco, a Catholic men's religious congregation that deeply inspired him. He traveled to Italy and joined the group. In Turin, Bronius studied philosophy and published a six-act drama called "The Prodigal Son." Working as editor of the Salesian publication, Bronius studied theology in Turin and was ordained as a priest in July 1935. 
Bronius returned to his native land in 1937, and administered the Salesian center in Vytenai, Lithuania. He taught Lithuanian language and literature in the Salesian school, and served as a confessor. In 1940, Bronius became rector of St. Michael the Archangel Church in Kaunas, Lithuania. On June 27, 1941, the Germans invaded Lithuania and immediately began killing Jews. The Kaunas pogrom was a brutal massacre that took place not far from Father Bronius' church. Several dozen Jewish men were publicly tortured and executed in front of a crowd of Lithuanian men, women and children. A Nazi was photographed beating victims to death with a metal bar. The head of the Catholic Church in Lithuania, Archbishop Vincentas Brizgyz, rejected Lithuanian Jews' petition for help, as did many other Catholic leaders, unfortunately. However Father Bronius refused to stand idly by.
Horrified at the Kaunas pogrom, the bookish priest sprang into action to save Lithuanian Jews. He forged birth certificates and baptism certificates, then entered the Jewish ghetto and provided fake papers, mostly for children. Desperate adults sent their children with Father Bronius, who sheltered them in his church, or his office, or with a kindhearted farmer with room in the barn. 
Jews saved by Father Bronius later remembered that the humble priest showed great respect for their religious identity. Masha Rabinowitz, one of the Jews he saved, tracked him down after the war to thank him. She asked for his blessing for her upcoming marriage, and he told her and her fiance, "If you wish to respect my feelings, please marry according to the Law of Moses and Israel and have my friend Rabbi Oshri conduct the ceremony."
Another survivor, Pnina Tory, later said, "The very appearance of a man like Bronius Paukstys instilled in our hearts the hope that not all was lost, that not all men had turned to predator animals or cowards. That there are still people with morals and conscience, goodhearted and compassionate, and on top of that, gifted with a unique courage and urge to combat evil."
Father Bronius was under heavy pressure from his superiors to stop his clandestine rescue missions. The Lithuanian Catholic leadership was afraid of punishment from the Nazis if they helped Jews. Father Bronius, however, feared no man. With the help of his brother Juozas, an agriculture professor, Father Bronius saved the lives of at least 120 Jewish children, as well as 25 adults. He later recalled hiding from Nazi storm troopers several times. 
After the war, Father Bronius was harassed for his opposition to the Soviet regime in Lithuania. A group of Jews he'd saved urged him to join them in moving to Palestine, but he refused to leave Lithuania. "I cannot abandon my flock," he said. "Here I belong, and I must fight the Bolsheviks as I fought the Nazis." Father Bronius was arrested by the Soviet secret police and accused of involvement with a Lithuanian resistance group. He was sent to a gulag, a torturous prison camp in Siberia where he worked crushing stones every day for ten years. Father Bronius was finally released in 1956 but his health was ruined. Stalin broke the good priest's body, but not his spirit. Father Bronius continued to speak out against Soviet oppression, and had to shelter in a secret location for an extended period. In 1964 Father Bronius was hired as a vicar in Simnas, Lithuania, and finally found some normalcy. He died two years later, in December 1966. Father Bronius and his brother Juozas were posthumously honored as Righteous Among the Nations by Israeli Holocaust Memorial Yad Vashem in 1977. 
For doing God's work by saving lives and opposing tyranny, we honor Father Bronius Paukstys as this week's Thursday Hero.
Get the best of Accidental Talmudist in your inbox: sign up for our weekly newsletter.
You Might Also Like