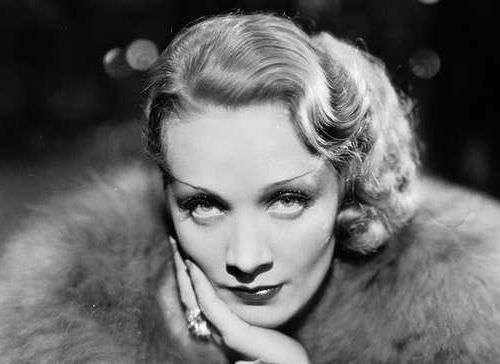 Marlene Dietrich was a German actress and singer famous for her talent, her lifelong humanitarian work, and her principled stance against Nazism.
Born in Berlin in 1901, Marlene studied violin as a child, and her first theater performance was playing in a pit orchestra in a Berlin silent movie house. A wrist injury prevented her from achieving her dream of being a concert violinist, but she'd caught the performing bug, and at age 20 the lovely young actress started appearing in vaudeville-style cabarets.
Her film debut came in 1923, when she appeared in a silent movie called The Little Napoleon. Throughout the 20's, Marlene worked on stage and film in Berlin and Vienna. Marlene's breakthrough role was cabaret singer Lola Lola, the female lead in the hit film "The Blue Angel"(1930), directed by Josef von Sternberg. The song "Falling in Love Again" became a massive hit, and Marlene went on to record many songs in the 1930's.
In 1930 she moved to the U.S. under contract with Paramount Pictures, and in the next five years Marlene Dietrich starred in six hit Paramount films. Under Von Sternberg's guidance, she crafted an image as a mysterious femme fatale.
By 1937, Marlene was the highest-paid star in Hollywood, earning the unprecedented sum of $450K to star in Knight Without Armour, filmed in Britain. While in London, she was approached by high-level Nazi officials and offered vast amounts of money if she would return to Germany and make films for the Third Reich. It was rumored that Hitler himself was a fan.
Marlene adamantly refused to have anything to do with Hitler or Nazism. Instead of joining the Third Reich, she applied for US citizenship and, after becoming a citizen in 1939, renounced her German citizenship.
In the late 30's, she created a fund with famed director Billy Wilder, a Holocaust refugee, to help Jews and other dissidents escape from Germany.
When the U.S. entered WWII in 1941, Marlene Dietrich was the first public figure to sell war bonds. Over the course of the war, she sold more than any other star. Marlene toured America nonstop from January 1942 to Sept 1943. She loved performing for troops, and appeared before 250,000 troops on the West coast alone.
During these years, she provided German and French exiles with housing and financial assistance, and helped many of them become U.S. citizens. In 1944 and 1945 Marlene traveled extensively with the USO, performing for Allied troops in Algeria, the UK, Holland, Italy and France.
Marlene received the U.S. Medal of Freedom in 1947 for her "extraordinary record entertaining troops overseas during the war." She later said this was the proudest moment of her life. She was also awarded the French Legion d'honneur.
After the war Marlene continued acting in movies, her final film being the classic "Witness for the Prosecution" directed by Billy Wilder. For the last 30 years of her life, she worked mainly as a cabaret artist, beguiling audiences with her sexy stage show well into her 70's.
In 1965, following a wildly successful tour of Israel, Marlene Dietrich became the first woman and German to receive the Israeli Medallion of Valor for her humanitarian work and activism on behalf of the Jewish people.
Marlene's stage career ended after she broke her leg onstage in 1975. The injury led to her dependence on painkillers, and for the rest of her life she was mostly bedridden, although she kept in touch with her many friends and fans by letter and telephone.
Marlene died in Paris in 1992 at age 90. Her Roman Catholic funeral was attended by over 1500 mourners inside the church, with thousands more congregated outside. Her coffin was draped with the French flag, and adorned with wildflowers and roses. Her medals were displayed at the foot of the coffin, military style. The officiating priest said, "Everyone knew her life as an artist of film and song, and everyone knew her tough stands. She lived like a soldier and would like to be buried like a soldier."
For her unflinching moral courage, and for entertaining millions worldwide for over fifty years, we honor Marlene Dietrich as this week's Thursday Hero.
Get the best of Accidental Talmudist in your inbox: sign up for our monthly newsletter.
You Might Also Like