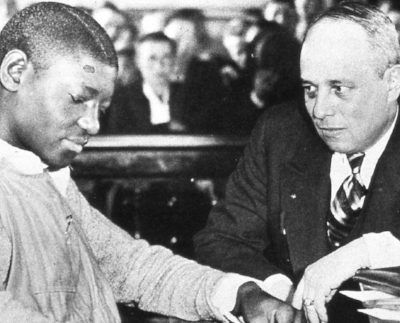 Samuel Leibowitz was a criminal lawyer best known for defending the Scottsboro Boys, nine young African-Americans sentenced to death for a crime they did not commit.
Samuel's tireless advocacy on behalf of the boys – the youngest was only 12 years old – led to profound changes in the criminal justice system, and the end of all-white juries in the South.
Born in Romania in 1893, Samuel and his family moved to America in 1897. He grew up in a tenement on New York's Lower East Side. The first in his family to attend college, Samuel received his undergraduate and law degrees from Cornell University.
Samuel became a criminal defense attorney, one of the few professional paths open to Jews at that time. He was known for his sharp mind, exhaustive knowledge of the law, and commanding courtroom presence.
In 1931, Samuel agreed to work pro bono on an appeal for the Scottsboro Boys, nine black Alabama teenagers accused of raping two white girls. Despite strong exculpatory evidence and the recantation of one of the alleged victims, an all-white jury convicted the boys and sentenced them to death.
In his opening arguments, Samuel challenged Alabama's exclusion of black people from juries. This angered many locals and Samuel began receiving hate mail and death threats.
For the duration of the trial, Samuel was protected by five National Guard troops. 150 more National Guardsmen were on standby in case of a lynch mob.
As part of his defense strategy, Samuel called several local black professionals to the stand to show they were qualified to serve as jurors, but had been excluded because of their race. One of them, John Sanford, was cross-examined by Attorney General Thomas Knight, and addressed by his first name, "John." Twice, Samuel asked the prosecutor to show respect and call the witness "Mr." as he did with white witnesses. Knight ignored him and kept calling the man "John."
Fed up, Samuel lost his temper. "Now listen, Mr. Attorney-General, I've warned you twice about your treatment of my witness. For the last time now, stand back, take your finger out of his eye, and call him mister." The judge told Samuel to be quiet.
During the trial, Attorney General Knight played on anti-Semitic prejudices. He asked the jury, "Now the question in this case is – is justice going to be bought and sold in Alabama with Jew money from New York?" Never mind that Samuel Leibowitz was working for free.
Prejudice against blacks and Jews may have played a role in the trial's outcome; the Scottsboro boys were convicted again. Samuel was shocked by the verdict. He said it was like "spitting on the tomb of Abraham Lincoln." He vowed to defend his clients until "hell freezes over."
For the next four years, Samuel worked (without pay) on three sets of Scottsboro trials. Repeatedly, the boys were convicted, and repeatedly Samuel appealed. He took the case all the way to the United States Supreme Court.
Arguing before the Supreme Court, Samuel Leibowitz proved that African-Americans had been systematically kept off Alabama juries. For this reason, the Supreme Court finally overturned the Scottsboro convictions. Samuel called the decision "a triumph for American justice."
After his work defending the Scottsboro boys, Samuel returned to his law practice in New York. He later became a judge, and in 1962 was appointed to the New York State Supreme Court. Samuel Leibowitz died in 1978 at age 84.
Get the best of Accidental Talmudist in your inbox: sign up for our monthly newsletter.
You Might Also Like